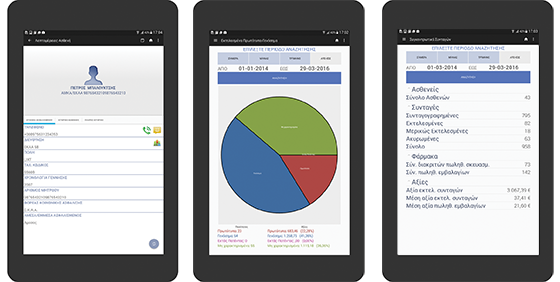 MedMobile – Your Medical Practice, now in your phone!
General Charecteristics of MedMobile
Automatic synchronization of patients, visits and prescriptions with the national electronic prescription system.
Patients' record.
Infirmary appointments management.
Comprehensive statistical information (prescriptions, referrals, visits, infirmary operation etc.)
Routing capability (Google Maps)
Phone call capability.
Integrated Technical Support (Monday to Friday, 9:00-21:00).
Patient's Archive
Synchronization with e-prescription system.
Access to

Patients' demographics and information




Medical visits




Diagnoses/Treatments




Medical examinations




Insurance Information




Address Information

Routing capability (Google Maps).
Contact info.
Phone call capability.
Dynamic search by name, last name, phone.
Calendar
Appointment booking and editing with a single click.
Automatic check of available times for appointment booking.
Appointment duration set.
Appointment categorization according to the reason of the visit.
Calendar preview according to your needs(Daily, Weekly, etc.).
Pescription Statistics
Number of patient visits.
Prescription value.
Referrals value.
Generic goals according to therapeutic group.
Prescription status.
Prescription allocation (Prototypes – Generis).
Treatment changes.
FULL PATIENT'S RECORD
Visits
Visit time & Date.

Reason and notes regarding the visit.
Visit status
Prescriptions
Prescription's release date

Diagnosis




Prescription's trade name




& executed formulation




Treatment data (dose, frequency etc.)

Prescription barcode.
Prescription status.
Referrals
Date and time of issue

Diagnosis

Examination description

Referral's barcode.
Referral's status.